We seem to hear about a new online scam nearly every week. While the internet has changed the world for the better in many ways, there is a downside. Online scams are still widely prevalent, and despite the misconception that they are primarily a concern for senior citizens,
a recent study by the FTC found

(Opens in a new Window)
that more millennials than retirees are now getting scammed out of money online. Everyone can be susceptible to these acts if they are not cautious. 
How to report a scammer
Do you think you or someone you know is getting scammed? Here's how to report a scammer and form a paper trail of evidence against fraudsters:


If you suspect you've become a victim of fraud or identity theft, contact ACCESSbank right away by calling 402.763.6000 or visiting one of our
branches
. Report suspicious activity, lost or stolen cards and all other fraud immediately.
When it comes to protecting yourself online, knowledge is power. Learn more about how we monitor suspicious activity of our customer's accounts and work to keep you
alerted
on what is going on. Feel free to
contact us
with any questions.
The Better Business Bureau warns

(Opens in a new Window)
about online fraud happening within Facebook. It starts with a "friend or relative" who contacts you through Facebook saying you are entitled to free money. These can come from fake profiles or hacked accounts. The catch? You need to pay up front for shipping or processing or provide other sensitive information that can be used for identity theft.
Follow these tips to avoid a Facebook hack or scam:
Don't give out your password (and don't use the same password for multiple accounts)

Avoid accepting unknown friend requests
Use a secured network, not public Wi-Fi, when signing into any accounts (especially your bank account)
Keep apps, browsers and antivirus software updated
The Federal Trade Commission has been getting reports of people getting letters in the mail from a law firm. They are, they say, looking for the heir of a multi-million-dollar inheritance. And they think it might be you. (Spoiler alert: it's not.)
Here's what they offer: they'll split the inheritance between you, their law firm, and some charities. One other thing: they say you have to keep this information secret and reach out to them by email — immediately.
So what's really happening? This is not a lawyer — it's a scammer. And if you email them, they'll probably try to get your personal information, like your Social Security or bank account numbers, your money — or both. And that inheritance? It doesn't exist.
Here's what to do if you get one of these letters:
Don't respond. Keep your money — and your information — to yourself. Never send money or information to a stranger who promises big rewards. That's always a scam.
Pass this information on to a friend. You probably throw away these kinds of letters. But you probably know someone who could use a friendly reminder.
Report it to the FTC at ReportFraud.ftc.gov.
Scammers are at it again, this time pretending to be "Sheriff's deputies" and threatening to arrest doctors, physician assistants, and nurses for missing a court date. So how do you spot this scam?
The scam begins with a phone call from someone who says they're a Sheriff's deputy. He'll say you missed a court date where you were supposed to give expert testimony. His tone is urgent, and he says you'll be arrested unless you pay a fine — in cash or gift cards.
In a twist, the caller says you have to pay the judge in person at the courthouse, by handing over those gift cards. The caller insists you stay on the phone with him while you go load money onto the gift cards. He may even threaten to arrest you if you hang up. Once you get the cards, but before you get to the courthouse, the caller (who's still on the phone) says the judge can't see you, after all. But, he says, you can pay the fine right away by giving him the numbers on the back of the cards. 
That's all a scam, and that scammer who called may use the name of a real officer or fake the caller ID to make their story more convincing. But the real officer isn't calling. It's a scammer who's after your money. To spot the scam, know this:
Real law enforcement officers will never call to say you're going to be arrested (or threaten to arrest you if you hang up).

Real law enforcement officers will never demand that you pay fines by phone.

Only scammers will call, text, or email demanding that you pay by cash, gift card, cryptocurrency, payment app, or a wire transfer service. The government will never do that. So: Stop. Don't pay.
 IRS impersonators have been around for a while. As more people get to know their tricks, they're switching it up. Instead of contacting you about a tax debt and making threats, scammers may send you a text about a "tax rebate" or some other tax refund or benefit. Here's what to know about the new twist.
The text messages may look legitimate, and mention a "tax rebate" or "refund payment." No matter what the text says, it's a scammer Phishing for your information. And if you click on the link to claim "your refund," you're exposing yourself to identity theft or malware that the scammer could install on your phone.
If someone contacts you about a tax rebate or refund:
Never click on links in unexpected texts. Don't share personal information with anyone who contacts you out of the blue. Always use a website or phone number you know is real.
Know that the IRS won't call, email or text to contact you for the first time. They'll always start by sending you a letter. If you want to confirm, call the IRS directly at 800-829-1040.
Find the status of any pending refund on the IRS official website. Visit Where's My Refund.
Report unsolicited texts or emails claiming to be the IRS. Forward a screenshot or the email as an attachment to phishing@irs.gov 
Scammers are using the names of well-known employers to post job openings that don't exist. The purpose? Tricking you into sending them personal information or money upfront to get the job.
The phony postings are hard to pass up. They offer great pay, telework options, and money to set up a home office. But here's an example of how the scam works. First, they get your information and send you a check for, say, $4,000. Once the check "clears", they tell you to keep $1,000 as a salary advance, and send back $3,000 — supposedly to get a computer and office equipment. But the job and the equipment never appear. And sadly, when the bank realizes the check is fake, you're out of the job and now $3,000 in debt.
To avoid similar job scams:
Verify job openings before you apply. Visit the official website for the organization or company you're applying for. Most include a "career opportunities" or "jobs" section.
See what others are saying. Look up the name of the company along with words like "scam," "review," or "complaint." The results may include the experiences of others who've lost money.
Don't pay for the promise of a job. Legit employers will never ask you to pay to get a job. Anyone who does is a scammer.
Never deposit a check from someone you don't know. An honest employer will never send you a check and then tell you to send them part of the money. 
If you paid a scammer, call the company you used to pay right away (the gift card or money transfer company, for example). Ask them to reverse the charge. 
Some of the biggest categories of online scams are ones that promise you can make easy money online or from home by doing little work. Here are a few to watch out for:
Work-from-home scams:

 

There are number of ways to make money online but also a lot of traps, as listed by

 

The Penny Hoarder

(Opens in a new Window)

. Watch out for jobs that require you to pay in order to start work and those that sound too good to be true.
Cryptocurrency accounts:

 

These scams offer you bank accounts to deposit your bitcoin or other cryptocurrency, with promises of doubling or tripling your money.
Generate passive income with our system: This scam sells you a "proven system" to help you become an overnight financial success. Typically, these are loaded with fake testimonials and bogus information.
People lose a lot of money to phone scams — sometimes their life savings. Scammers have figured out countless ways to cheat you out of your money over the phone. In some scams, they act friendly and helpful. In others, they might threaten or try to scare you. One thing you can count on is that a phone scammer will try to get your money or your personal information to commit identity theft. Don't give it to them. Here's what you need to know.
How To Recognize a Phone Scam
There is no prize
The caller might say you were "selected" for an offer or that you've won a lottery. But if you have to pay to get the prize, it's not a prize.
You won't be arrested
Scammers might pretend to be law enforcement or a federal agency. They might say you'll be arrested, fined, or deported if you don't pay taxes or some other debt right away. The goal is to scare you into paying. But real law enforcement and federal agencies won't call and threaten you.
You don't need to decide now
Most legitimate businesses will give you time to think their offer over and get written information about it before asking you to commit. Take your time. Don't get pressured into making a decision on the spot.
There's never a good reason to send cash or pay with a gift card
Scammers will often ask you to pay in a way that makes it hard for you to get your money back — by wiring money, putting money on a gift card, prepaid card or cash reload card, or using a money transfer app. Anyone who asks you to pay that way is a scammer.
Government agencies won't call to confirm your sensitive information
It's never a good idea to give out sensitive information like your Social Security number to someone who calls you unexpectedly, even if they say they're with the Social Security Administration or IRS.
You shouldn't be getting all those calls
If a company is selling something, it needs your written permission to call you with a robocall. And if you're on the National Do Not Call Registry, you shouldn't get live sales calls from companies you haven't done business with before. Those calls are illegal. If someone is already breaking the law calling you, there's a good chance it's a scam. At the very least, it's a company you don't want to do business with.
publisher's Clearing house scams
You may have heard about the Publisher's Clearing House (PCH) scam in the news.  Here are six tips to help you spot whether someone is preying on you:
If you receive an email, a telephone call, or a bulk mail letter saying that you've won a big prize from PCH, it's a scam. According to the PCH website: "All PCH prizes of $500 or greater are awarded by either certified or express letter or in person by our famous Prize Patrol at our option." So, you know that if you receive a prize notification by any other method than certified mail or an in-person award, you are being scammed.

Scammers extort money from you in exchange for a promise of a prize that never materializes. The truth is you never, ever have to pay to receive a sweepstakes prize from Publishers Clearing House or any other company.

You don't have to give Publishers Clearing House your address, bank account number, driver's license number or any other confidential information when you first enter. You may have to fill out an affidavit to verify eligibility if you win, but not when you first enter or when you are first notified that you are a winner. If the entry form is asking for this kind of personal information, it's a sign you are on a spoofed website.

Scammers sometimes make it appear that you're not "really" paying for your prize by handing over a check and asking you to send back some of the money. After all, they're providing the funds, right? Wrong. Those checks aren't legitimate, and you will be left holding the bill.

There are some steps that you can take to verify your prize wins. Some of them include never, ever paying money to receive a prize and using Google to search for similar win notifications that have been reported to consumer organizations as scams. Before you respond to any notifications, take these steps to protect yourself.
If you have checked the steps above and you're still not sure if your win notice is legitimate, you can contact PCH directly to ask them to verify your prize. Do NOT use the telephone numbers or email addresses included in your win notice; scammers fake that information to trick their victims.
If you've heard of "catfishing," you can imagine what this breed of scamming is all about. In this increasingly popular online scam, a fraudster preys on vulnerable people seeking a romantic connection to lure them into draining their bank accounts.
Online dating scammers often fool their victims into falling in love with them by using information posted in the victims' dating or social media profiles. Romance scammers try to quickly woo their targets and move the conversation to a private channel, like over the phone. Then, suddenly, something horrible happens. This could involve a lost job, a family member ending up in the hospital or someone dying—which is when the fraudster will ask for money or gifts.
Don't give money or gifts to someone you haven't met in real life

Be careful what you post online and avoid sending photos of yourself, which can be used for blackmail
Do a reverse image search of the person's profile to see if he/she may be using a stolen photo
Talk to someone you trust and pay attention if friends and family are concerned
People are reporting a new twist on a banking imposter scam targeting the military. In this latest con, imposters call servicemembers and pretend to be from or working with DFAS (for us civilians, that's the Defense Finance and Accounting Service, a Department of Defense agency that handles getting pay to servicemembers). Here's how the scam plays out.
The caller says the servicemember was (supposedly) underpaid. They demand the servicemember's name, rank, and confirmation of a myPay payroll deposit. They then demand that the servicemember wire money to them immediately — supposedly to return the incorrect deposit. The caller says this is the only way for DFAS to then deposit the correct amount in their account. But these are all lies.
These scammers are committed and conniving: we've even heard of at least one case where a servicemember's credit union flagged and stopped the transfer because it looked suspicious. But when the scammers didn't get the money, they called back, berated the servicemember for disrespect, and pressured them into overriding the credit union's flag to complete the transaction.
This scam shows many of the classic warning signs of an imposter scam. But these scammers also take advantage of the military's deference to rank and authority. Servicemembers learn from the get-go to obey a superior's commands. Scammers know that military personnel — especially those new to the service — are not likely to challenge someone claiming to be a superior. But here are some ways you can fight back against imposters.
Know that DFAS — and other government agencies — will not call, email, or text to demand money or personal information. 
Don't click on links in unexpected emails or texts.
Contact DFAS at a number or website you know is trustworthy.

Do some research before you react.
Student Loan Debt Relief Scams
Paying off student loans can feel like a big undertaking, especially since it'll take most people years to see a zero balance. When debt relief companies call promising quick loan forgiveness, you may be tempted to hear them out — but don't. These scammers claim they'll lighten your load (for a fee) — but their schemes often leave you deeper in the hole.
You'll know you're talking to a student loan debt relief company that could potentially scam you, instead of ED or an official federal student loan servicer, if you notice any of the following three things:
1. You're asked to pay an upfront cost or monthly fees
There's nothing a student loan debt relief company can do that you can't do yourself, especially with the help of your loan servicer.
If you're having a hard time making your monthly payments, your loan servicer can work with you to switch to a more affordable repayment plan at any time, at no additional cost to you.
Your loan servicer works on behalf of ED to
collect your loan payments;
answer any questions you have about your loans;
help you decide which repayment plan best suits you; and
help you switch to a new plan at no cost.
2. You're promised immediate loan forgiveness
No one can promise immediate and total student loan forgiveness or cancellation. A student loan debt relief company may claim to get rid of your loans quickly, but most government forgiveness programs require many years of qualifying payments and/or qualifying employment in certain fields before loans can be forgiven.
Find out from ED directly whether you qualify for loan forgiveness due to your job, disability, the closure of your school, or other circumstances. Your loan servicer can also help you determine if you qualify for loan forgiveness, at no cost.
3. You're asked to provide your FSA ID password
Neither ED nor your loan servicer will ask you for your FSA ID (account username and password). Your FSA ID is used to sign legally binding documents electronically. It has the same legal status as a written signature. Do not give your FSA ID password to anyone or allow anyone to create an FSA ID for you.
If you share this information or sign a Power of Attorney, you're giving a debt relief company the authority to take any action they choose, make decisions for you, and act on your behalf.
And if the debt relief company collects fees from you, but never actually makes any payments on your behalf, you will still be responsible for those outstanding payments, interest accruals, and late fees.
texting ("Smishing") scams
You're likely familiar with phishing scams—fake emails that look to be sent from legitimate companies—but have you heard of a similar tactic called smishing? Smishing scams involve fraudulent text messages that seem urgent and indicate something is wrong. These messages prompt you to click a link, send sensitive personal information or reply to the text to resolve a serious situation. They may also promise free gifts or offers in exchange for personal information. So how should you handle a text message you think may be spam?
Don't reply or click any links

Call the company directly if you suspect the text may not be real (use the phone number on its real site)
Delete the text
Vishing is the fraudulent practice of making phone calls or leaving voice messages purporting to be from reputable companies in order to induce individuals to reveal personal information, such as bank details and credit card numbers.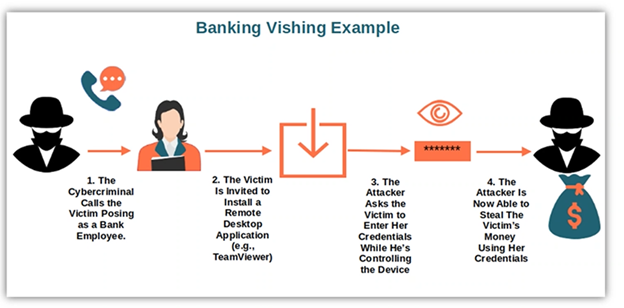 Prevent Vishing Attacks
Financial institutions will never ask for your personal information over the phone 
Avoid Robocalls

If you do not recognize the phone number do not answer the phone

Verify the caller's identity
Do not respond to voice automated prompts
You get a call. There's a panicked voice on the line. It's your grandson. He says he's in deep trouble — he wrecked the car and landed in jail. But you can help by sending money. You take a deep breath and think. You've heard about grandparent scams. But darn, it sounds just like him. How could it be a scam? Voice cloning, that's how.
Artificial intelligence is no longer a far-fetched idea out of a sci-fi movie. We're living with it, here and now. A scammer could use AI to clone the voice of your loved one. All he needs is a short audio clip of your family member's voice — which he could get from content posted online — and a voice-cloning program. When the scammer calls you, he'll sound just like your loved one.
So how can you tell if a family member is in trouble or if it's a scammer using a cloned voice?
Don't trust the voice. Call the person who supposedly contacted you and verify the story. Use a phone number you know is theirs. If you can't reach your loved one, try to get in touch with them through another family member or their friends.
Scammers ask you to pay or send money in ways that make it hard to get your money back. If the caller says to wire money, send cryptocurrency, or buy gift cards and give them the card numbers and PINs, those could be signs of a scam.
The old phrase "If it seems too good to be true, it probably is" certainly applies to shopping online. Fake shopping websites have been popping up lately, aiming to scam you out of your hard-earned money. Pay attention to these red flags, which will help tip you off to a fake website or online store:
Bad English and/or poor website design

Super-low prices that seem too good to be true
Bootleg logo, store name and/or URL (e.g. "you-pay-less-4-mac-stuff.com" or a site with a URL that's one or two letters off from a legitimate domain)
Inability to accept credit or debit card payments
Reviews that sound suspicious or inauthentic


How can you protect yourself from fake shopping websites?